Within a month of joining the Termite and Ant Research (TART) Team this year I found myself on a plane with a Malay phrase book in hand. The TARTS (Kate Parr, Paul Eggleton, Theo Evans, Louise Ashton and Hannah Griffiths) were winging our way to Kota Kinabalu to start three months of fieldwork in Maliau Basin, a 390km2 expanse of pristine tropical rainforest in Sabah, Malaysian Borneo.
The TARTs at the Universiti Mayalsia Sabah in Kota Kinabalu (left). Photo: Louise Ashton. The Maliau River running through the Maliau basin (left) Photo: Hannah Griffiths.
The TARTS are part of a wider team of scientists working together within the BALI consortium, a large NERC (National Environment Research Agency) funded research group dedicated to understanding how biodiversity and land-use change impacts on tropical ecosystem function. Our roll within the consortium is to investigate how ants and termites control the community composition of other invertebrate groups, as well their impact on ecological processes such as decomposition and nutrient cycling in tropical forests.
Examples of our study subjects: termites belonging to the genus Hospitalitermes (left), and an ant of the genus Polyrachis (right). Photos: Louise Ashton.
To do this, we have established twelve experimental plots (50m x 50m) in the field at Maliau: on four of these we have supressed the termites, on another four, the ants have removed, and on the final four plots we have left both the termites and ants alone. The idea being that if we experimentally eliminate these important invertebrates from areas of the forest, we can observe what happens to other aspects of the ecosystem when they are not there. This allows us to gain a better understanding of their exact role in complex rainforest environments. The plots were set up in October 2014 using (a lot of) poisoned loo rolls and cat food baits, for the termites and ants respectively, and their numbers have been maintained at low levels ever since.
Termite poison being prepared, drying in the heat, ready to be deployed onto our plots. Photo: Kate Parr.
Having left the forest to respond to the absence of the ants or termites for almost a year, the TARTs returned in summer 2015 to get to work monitoring the ecological consequences of our experimental manipulations. This involved placing hundreds of tea bags, pieces of wood, and bags of leaf litter onto the forest floor to investigate rates of decomposition; transplanting thousands of seedlings onto our plots to assess leaf damage as a result of herbivory; as well as sampling as many different invertebrate groups as possible to evaluate how removal of their major predators, the ants, affects their numbers.
Decomposition experiments: Louise working on some late night wood block preparation (left); Louise and I homogenising leaf litter (right). Photos: Hannah Griffiths
Our transplanted seedlings for the herbivory experiment: left shows a herbivore exclusion cage and right demonstrates our numbering of the leaves to keep track of many leaves each plant is gaining or loosing.
Rain, Dino and Sarah setting up a light trap to sample moths from the canopy (left); Louise's moth collection (right). Photos: Louise Ashton.
Tropical fieldwork can be hard, it involves many long days in a hot and humid environment where plenty of things would sting or bite you or suck your blood given the chance. However, one best aspects of the job is the opportunity to work closely with interesting people from all over the world. Out in Maliau we are lucky enough to be helped by a team of amazingly enthusiastic and talented field assistants, which made our work not only possible and a lot of fun. And, as well as the opportunity to meet all kinds of people, being a tropical ecologist allows us to spend time in one of the biologically diverse and fascinating habitats on earth. Practically everyday we encounter something new and unexpected; it could be an elephant, a sun-bear, a giant beetle or crazy caterpillar. You never know what we are going to see or hear, and that makes going to work each day pretty exciting.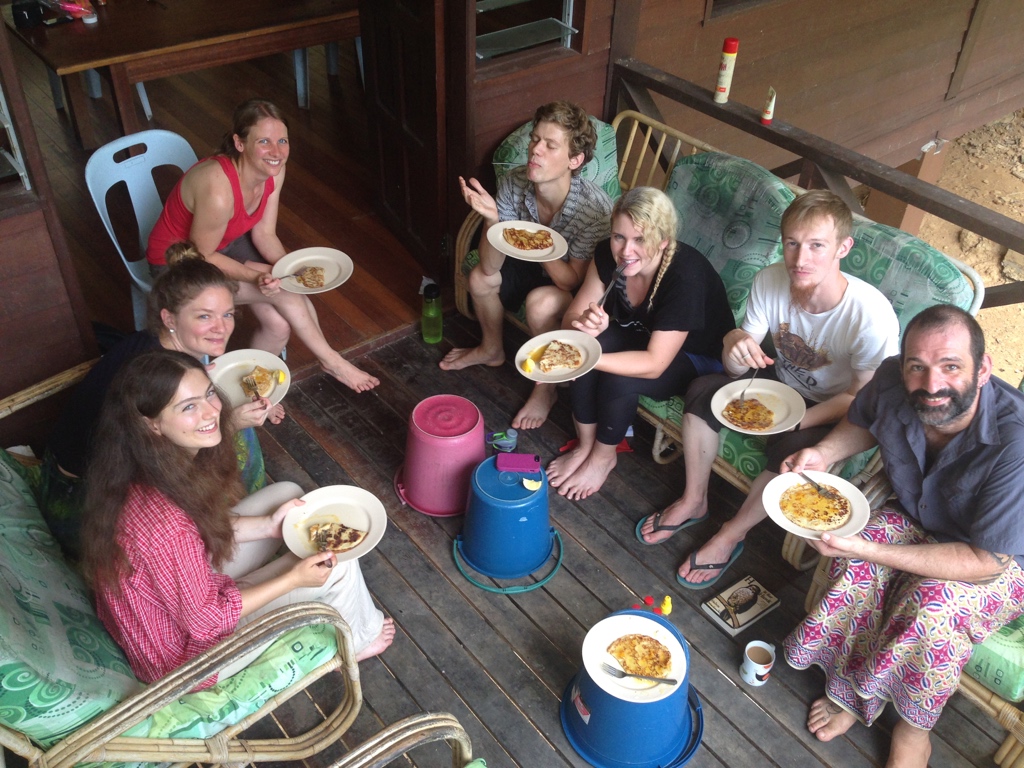 Team seedling: Lou and I with some of our amazing field assistances, Austin, Ellie and Jiejie in the field setting up our seedling experiments. Photo: Louise Ashton. Some of the researchers enjoying a Sunday breakfast at the scientist's annex (right) photo: Hannah Griffiths
Some of the creatures we encountered during our time in the field: a beautiful caterpillar (left). Photo: Louise Ashton. A Rhinoceros beetle (right). Photo: Hannah Griffiths.